John S. e-mails me to ask how long I expect the 50,000 point signup bonus offer for the American Express Premier Rewards Gold card will be around.
It's been 75 days since his last credit card signups and he wants to know whether he needs to jump on this deal now.
The answer is I don't know.
50,000 points after $1000 spend within 3 months is a very good offer. (I carry the card and only got the standard 25,000 points when I signed up). It has a $0 fee the first year as well.

It's also an exclusive offer through CreditCards.com, most links still provide just 25,000 points. My 'referral link' for the card offers only 25,000 points (so I'm not publishing it here, don't want anyone clicking it by mistake).

Since the 50,000 point offer isn't 'mine' American Express didn't tell me about it, and isn't telling me when they're pulling it.

The last time this was offered it was very short term. And I've only seen a generally-available offer this generous offered for the card once in the past 19 months. And even that was a stretch — matching a targeted bonus.
At the end of December I reviewed the American Express Premier Rewards Gold card. It's part of my credit card strategy for 2013 because it earns triple points on airfare, double points on gas and groceries (it's the best Membership Rewards-earning card), and that the points are extremely flexible — Membership Rewards points transfer into a whole host of points partner programs, and in many cases do so instantly.
CreditCards.com has exclusive offers from American Express that no one else does.
Here's how they provide the offer of 50,000 points for the Premier Rewards Gold card after $1000 spend within 3 months:

Go to CARDMATCHTM.

Fill in your name and address. The social security number field is not required, offers seem to come up fine without it.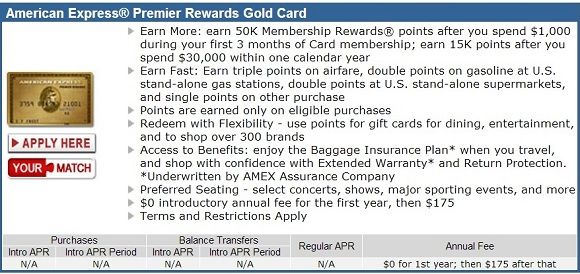 I love American Express points best for transfers to Singapore Airlines Krisflyer – since Singapore makes two first class award seats available almost all the time for their own members.
Others like British Airways Avios — I'm certainly far less of a fan since the November 2011 program changes — for short-haul non-stop flights where roundtrips start at 9000 miles and 50,000 points are enough for many US-London and US-South America routes, and South American and US domestic won't involve fuel surcharges (and neither will US-Europe on British Airways' oneworld partner Air Berlin).
And of course American Express also offers semi-regular transfer promotions where 50,000 points may wind up transferring into 65,000 or even 75,000 miles at times.
It seems well worth jumping on this offer that's twice as good as usual, especially given the relatively modest bonuses that other American Express cards have had lately and that this is likely short-lived but I don't have an end date.
Since I don't have my own 50,000 point offer link for the American Express Premier Rewards Gold card — my referral link is for 25,000 points — I direct you to my link for CreditCards.com's
CARDMATCHTM.