Note: I started writing this post before reading that The Points Guy is considering signing up for this card. Brian, this one is for you: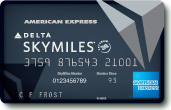 At first blush, you would have to be insane to sign up for this card. It comes with a jaw dropping $450 annual fee which is not waived the first year! However, if you look a bit closer, you just might be swayed.
What you get for the annual fee (just the highlights):
MQMs:
The first year you have the card, you will be given 10,000 MQMs (Delta Medallion Qualifying Miles) after your first purchase. Since I've argued that the fair trading price for MQMs is about 3 cents each (see How much should you pay for elite qualifying miles), this signup bonus is worth at least $300
Sky Club Access:
Once you have this card, you and two guests can get into any Delta Sky Club. A Delta Sky Club membership costs between $300 and $450 (depending on your elite level). Personally, I would never pay for that, though. So, I would peg this benefit at about $150, but you should really judge for yourself how much it is worth to you.
Companion Certificate:
After the first year, when you renew the card, you receive a a free companion certificate. This will allow you to essentially buy two tickets to and from anywhere in the continental US for the price of one. Note two big downsides: the companion does not earn miles or MQMs and you and your companion will not be eligible for upgrades. I like to use these certificates on regional jets that don't have first class anyway. Personally, I value this benefit at about $250.
Priority Upgrades
If you are on the upgrade list on a flight and other frequent fliers have the same status as you (e.g. Silver, Gold, Platinum, or Diamond) and they bought tickets in the same fare class as you, you will jump ahead of them because you hold this card. This benefit is unlikely to help you very often, but if you fly a lot it will probably be the difference between first class and coach at least once a year. I'll call this one a $50 benefit (even though circumstances could make it worth much more).
Total benefits first year: $500
Total benefits ongoing years: $450
So, as you can see, the card pretty much pays for itself with its benefits. If you value the particular benefits listed above, you might want to seriously consider this card.
Benefits from Daily Spend
If you don't spend a lot on this card, the benefits are minimal. You will earn one Delta Skymile per dollar on most purchases, and two Delta Skymiles per dollar on Delta purchases. Compared to several other cards, this is pretty lame. Where the card shines, though, is if you manage to put exactly $30K or $60K of spend on the card in a year:
Big Spend Benefits
Once you reach $30K in spend in a calendar year, you will be awarded with 15000 bonus miles and 15000 Medallion Qualifying Miles (MQMs) which will help you get to the next level of elite status at Delta. The same benefits kick in again at $60K of spend. So, if you manage to put exactly $30K or $60K of spending on your card each year, you will earn 1.5 SkyMiles and .5 MQMs per dollar spent. According to my Fair Trading Prices chart, SkyMiles trade at 1.29 cents each whereas MQMs trade at 3 cents each. This means that you would earn 1.29 * 1.5 + 3 * .5 = 3.435 cents of value per dollar spent on the card! This is really an outstanding rate of return for non-category spend (some cards offer better rates of return for spend within categories such as gas stations, grocery stores, etc.). Theoretically, you could spend $30K on Amex Gift cards by going through Big Crumbs to earn 1.6% cash back and increase your overall rate of return to about 5 cents per dollar! The more highly you value elite qualifying miles (MQMs), the more attractive this option is likely to be to you.
Conclusion
If you are a frequent Delta flyer and you value Sky Club access, this card is a good one to keep in your wallet or in a drawer. If you are also a big spender, this card is a surprisingly strong contender! Personally, I plan to use tricks for spending a lot of money and getting most of it back in order to spend $60K per year on this card!

Stay informed:
Follow me on Twitter / Like me on Facebook
31 Responses to "An analysis of the Delta Reserve credit card"