Breaking news from Airline Reporter and AVHerald  that a Thai Airways International Airbus A330 has suffered a runway excursion on landing at Bangkok.
According to AVHerald:
A Thai Airways Airbus A330-300, registration HS-TEF performing flight TG-679 from Guangzhou (China) to Bangkok (Thailand) with 287 passengers and 14 crew, landed on Bangkok's runway 19L at about 23:30L (16:30Z) but veered right off the runway and came to a stop with all gear on soft ground, a large plume of dust rose above the aircraft initially creating fears of a crash.
Thai have posted the following on their Twitter feed:
According to a statement released on Thai's Facebook Feed:
Thai Airways International Flight TG 679, Guangzhou – Bangkok operated with Airbus 330-300 aircraft departing Guangzhou at 16:03 hrs. (local time) scheduled to arrive at Suvarnabhumi Airport at 23:00 hrs. (local time) experienced incident while landing at Suvarnabhumi Airport. As the aircraft was landing and the landing gear touched the runway, the nose gear has failed. As a result, the plane skidded off the runway. The captain took control of the aircraft until it stops and the passengers were evacuated using slides.

The aircraft was carrying 287 passengers and 14 crew members. 8 passengers were slightly injured. Injured passengers were taken care and sent to hospital for medical treatments.
https://www.facebook.com/photo.php?fbid=10151640364107293&set=a.10150289767967293.337194.304177952292&type=1
The damage looks extensive according to pictures uploaded to Twitter: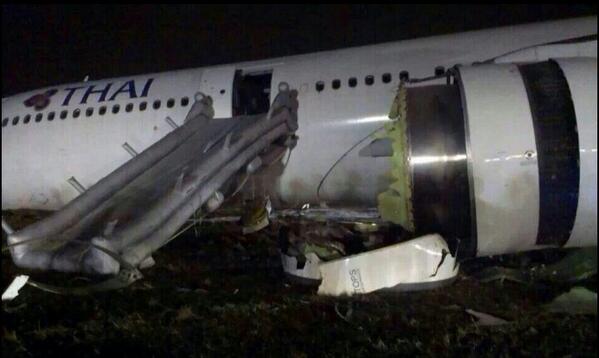 Image: @bullrockey – https://twitter.com/bullrockey/status/376796375804944384
- Story Breaking
5 Responses to "BREAKING: Thai Airways International A330 Runway Excursion at Bangkok Suvarnabhumi"