Last month I argued that premium cabin award travel is best for families.
More award seats cost more miles, and not everyone has the balances to support flying up front. But premium cabin awards in many programs do not cost substantially more than coach awards do — a business class ticket might cost 5 to 10 times the price of a coach ticket, but a business class award may be only 50% – 100% more miles.
Ultimately you should redeem your points for what you value, and not everyone feels like extra room, a better sleep on long flights, or fewer hassles is worth any extra points or money.
Last month I suggested ways to earn more miles instead of strategizing to economize on miles, as well as some of the compromises involved in finding more than two award seats on a single flight.
When I asked last week (in my 'request for requests') one of the questions that came up was how to go about finding awards for a family. What routes are going to be best to check?
As a starting place you want to use the right tool to search for award space on your own, even before calling up your mileage program to book an award or trying to do it yourself online. But what routes to plug in?
Basic principles,

More seats are harder than fewer seats. If you can split up (a family of four might fly 2+2) that makes things much easier.

Roughly six months out is a good sweet spot for searching award space.

Shorter flights are in less demand. East Coast – Europe is far easier than West Coast – Europe. West Coast – Asia is far easier than East Coast – Asia. If you're on the opposite coast, be willing to connect domestically or even buy domestic connecting flights if needed.

Multiple flights a day mean more award space. More total seats between a city will usually make it easier to get awards. But if the flights are ones that tend not to sell out that's even better.
I plan to look at several different alliances and how to use miles in those programs to get a family between North American and several different regions of the world.
I will start with Star Alliance (United, which is a Chase Ultimate Rewards transfer partner; US Airways; Aeroplan, ANA, and Singapore Airlines which are American Express Membership Rewards transfer partners; Avianca LifeMiles) and getting to Europe.
I have several go-to cities when searching for award space. Here I've decided to focus on finding at least four business class awards on a single given flight.
Brussels often has good award availability. In the past Austrian's JFK-Vienna flight was a gimme but no longer as much.
East Coast – Europe on Lufthansa (Dusseldorf and Munich especially but sometimes Frankfurt) is often very doable.
United's U.K. flights are as well (remember that there's not much connecting traffic beyond the UK for United because there's no Star Alliance hub there).
Putting These Principles into Practice — Real Routes With Business Class Awards for Four Passengers
As a starting place let's take a look — again roughly six months out — at New York to Munich and Frankfurt. It represents a gold mine for finding four business class award seats.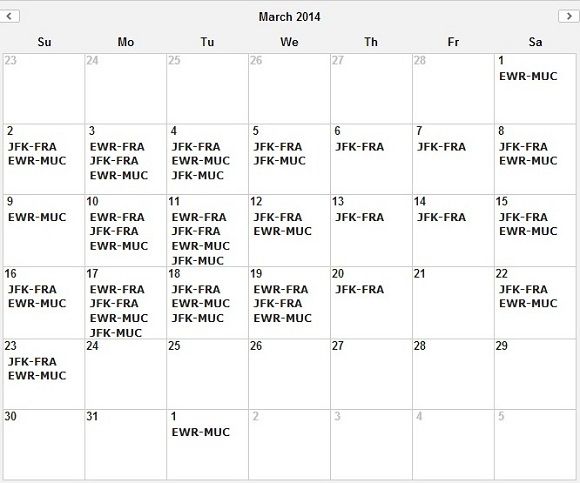 Newark and Chicago to Dusseldorf also offer excellent award availability.
The Washington Dulles to Frankfurt and Munich flights will have some availability as well, though not as much as New York (remember there are more flights between New York and Germany than there are between DC and Germany).
Here is New York – Brussels.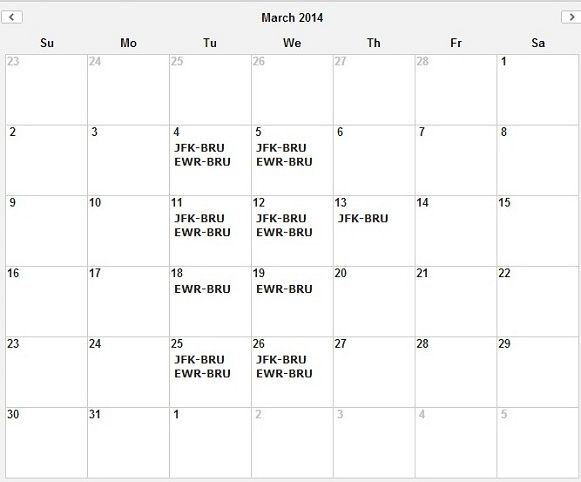 And Washington Dulles and Chicago O'Hare to Brussels.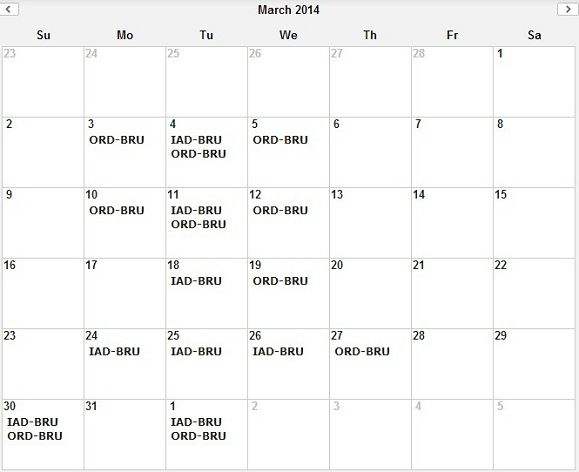 There are 'oddball routes' by which I mean routes that do not connect in the U.S. to partner hub cities. Some of those are better than others for award space. A quick search of Dallas and Detroit to Frankfurt yielded many days in March with business class award space for four passengers.
For this exercise there are plenty of other routes to try. I haven't shown you the Boston, Atlanta or Chicago – Germany flights. I haven't shown you what Turkish award space looks like, or Amsterdam when United's schedule first opens. And I haven't offered up Charlotte – Munich, largely because I would expect that if US Airways and American merge that the Charlotte-Munich route could go away.
There are tons of ways to get transatlantic business class award space between the US and Europe using miles in a Star Alliance program. Sometimes you'll find award seats from your home city to the international departure city (if not, it can get pricey to buy some of the domestic tickets to do that). Generally within Europe finding four award seats isn't nearly as much of a challenge.
You're going to need to be flexible. Even for many of the better routes it's tough to find transatlantic award space departing the U.S. on a Friday after work. Just as you might want to travel that way to maximize your days away, everyone else does too (plus people going home to Europe from a week in the States) and airlines hold back seats in hopes of selling them.
But with a bit of flexibility and advance planning you can definitely use miles for the whole family.
Note: All award calendars generated using Award Nexus.
---
You can join the 30,000+ people who see these deals and analysis every day — sign up to receive posts by email (just one e-mail per day) or subscribe to the RSS feed. It's free. Don't miss out!