Key Links:
When you watch tv commercials for Chase's credit cards they often talk about earning points that get you free travel.
Their card commercials really undersell the value proposition they offer. When they tell you on the commercial that the 40,000 point signup bonus you can earn with the Chase Sapphire Preferred Card is worth $500 in travel, that really misses the point of the card.
Yes, it's a generous bonus. And spending on the card earns double points on all travel and dining. And they will let you use each point as 1.25 cents towards paid travel. But if you redeem your points that way, you're doing it wrong.
You can get a lot more value from the points by transferring them to airline or hotel frequent flyer programs. It's simple to do that online through their website, and it works instantly for most of their partners.
Now, you can do this if you have the Chase Sapphire Preferred Card. But you cannot do this with points in a regular 'Sapphire' (not Preferred) account.
And you can do this if you have the Ink Plus® Business Card or Ink Bold® Business Card. (These cards come with 50,000 points after spending $5000 within 3 months.) But you cannot do this with points in a regular Ink Cash or Ink Classic account.
Here's how it works.
Log into your Chase account. Underneath your card account is an Ultimate Rewards logo and a link that says "Go to Ultimate Rewards" — click that.
Here's the top left of the screen you'll be presented with:
See, I've X'd out things you don't want to do. I explained a couple of months back why you don't want to redeem your Ultimate Rewards points to pay the retail cost of travel. You also don't want to 'pay yourself back' (take a statement credit) or redeem for merchandise.
You want to "Transfer Points to Travel Partners"
Chase Ultimate Rewards points transfer one-to-one into each of the loyalty programs they partner with.
Here's the list of partners you get to choose from:
See, this is also why earning Ultimate Rewards is so much better than earning miles with a single program: flexibility. You get to choose where to put points when you know what points you need — you know what you want to do with the points, where you want to go, what account may need a few more points, and who has the availability you're looking for.
Click on the partner you want to transfer points to. You'll be presented with a screen that lets you choose the number of points you want to transfer.
Adjust up or down until you get to the number of points you want to transfer. Then enter your name as it appears on your frequent flyer or frequent guest account along with your loyalty program number so they know where to send the points. Click continue.
You'll get a chance to review the transfer: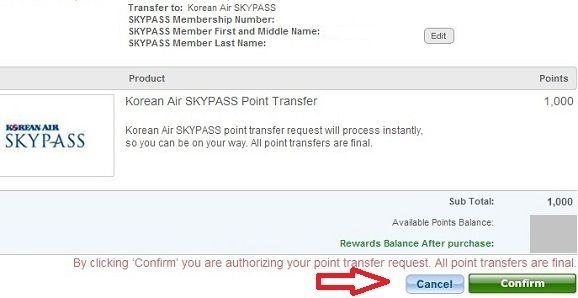 If the details — your loyalty program account information and the number of points you want to send — are correct, click Confirm.
That's all there is to it.
Some final things to know:

How long it takes to transfer. Chase's website commits that transfers to United, British Airways, Korean, Southwest, Virgin Atlantic, Hyatt and Amtrak will all process instantly. They commit that Marriott, IHG Rewards, and Ritz-Carlton Rewards (which is effectively Marriott Rewards) will process by the next business day.
Only one transfer per day to Korean Air. Korean is the only program that Chase partners with that has this restriction, but it really shouldn't get in the way.
(Note that cards in this post offer credit to me if you're approved using my links. The content is not provided or commissioned by American Express, by Chase, by Citibank, US Bank, Bank of America, Barclays or any other company. They have not reviewed, approved or endorsed what I have to say.)
---
You can join the 30,000+ people who see these deals and analysis every day — sign up to receive posts by email (just one e-mail per day) or subscribe to the RSS feed. It's free. Don't miss out!